Choosing an employee recognition and rewards platform can be overwhelming with the amount of features and functions available. Here are some important things to look out for when evaluating vendors to build and house an employee recognition program:
Behavioral Email
New employee programs are difficult enough to pitch and internally develop, much less launch and sustain. Look out for a platform which integrates messaging and a proprietary content management system (CMS) to make communication, reminders, and announcements simple and intuitive. The Rewardian platform uses triggered behavioral email automation to mimic the user experience employees and managers are accustomed to. A platform equipped with machine learning saves time by anticipating user behavior and creating a personalized reward shopping experience.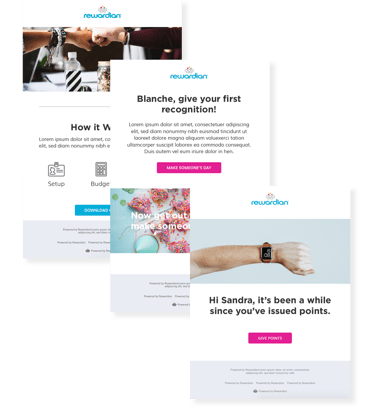 Service Anniversaries
Celebrate years of service anniversaries with automated recognition. The platform comes standard with one-click employee enrollment and applies conditional logic to instantly award points, ecards, and custom messages to employees on predefined dates.
Machine Learning
Choose a platform equipped with machine learning technology to provide a customized shopping and redemption experience. Using AI, Rewardian's platform recognizes user behavior to tailor product recommendations to user behavior and preferences.
Program Budget Management
Rewardian provides formulated budget templates and worksheets that allow admin users to segment budgets by region, line of business, and eligibility. The budget feature allows admins to create rules to automatically replenish budgets on a set date, bulk upload budget templates, set budget expiration dates, assign budget owners, and associate programs with specific budgets.
Peer to Peer Recognition
The Rewardian platform provides the option to enable peer-to-peer recognition to encourage a company-wide culture of gratitude. With the option to allow points-based peer-to-peer recognition, simple words of encouragement, personalized ecards, or all three, the platform makes spreading thanks simple for every member of the team.
Full Rewards Catalog
An employee recognition platform is only as good as its rewards. The Rewardian catalog uses behavioral technology to customize each employee's reward selection and redemption process. From experiences and gift cards to trending merchandise, the catalog provides something for every employee. The platform also allows users to purchase additional points should accrued points fall short for a given reward within the catalog.
Reporting & Metrics
Track adoption, budget utilization, redemption trends, point issuances, service anniversary earnings, purchased points, and measure program success with a full suite of analytics. The Rewardian reporting module provides real-time, dynamic analytics complete with standard one-click, pre-built reports and the option to request custom data reporting.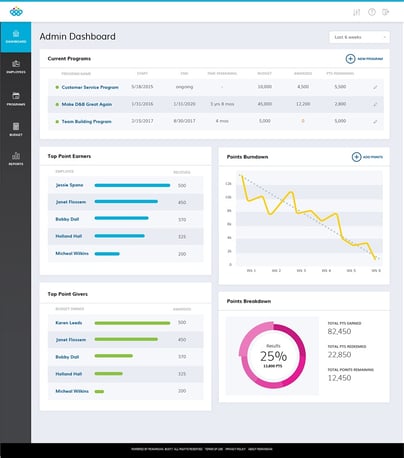 Employee Ideas Module
The Rewardian ideas module allows employees to provide feedback and suggestions from the frontlines. Empower employees by actively listening to suggestions and ideas in one seamless module. Admin users can easily access all employee submissions using the moderation panel with the option to upvote, comment on, and feature ideas. Employees can participate by voting on idea submissions which appear in the activity feed, a standard platform feature which publishes recognitions, ideas, announcements in a social media timeline format.
Download the Complete Guide