Though Employee Appreciation Day is an 'unofficial holiday' and was recognized as such as recently as just 1995, companies are becoming increasingly aware of the importance of employee appreciation. Though things like Employee Appreciation Day and other perks created to increase satisfaction are important, the more crucial focus is employee engagement.
The business dictionary defines employee engagement as the emotional commitment the employee has to the organization and its goals. According to Gallup, engaged employees are those who are involved in, enthusiastic about, and committed to their work and workplace.
This emotional commitment means engaged employees actually care about their work and their company. They don't work just for a paycheck, or just for the next promotion, but work on behalf of the organization's goals.
The modern workforce considers an engaging work environment to be a fundamental expectation, a baseline requirement.
The cost of disengaged employees
According to the most recent State of the Workplace study by Gallup, 51% of the US workforce is not engaged at work, and half are actively looking for new jobs are watching for openings. Gallup estimates that actively disengaged employees cost the U.S. $450 billion to $550 billion in lost productivity per year.
---
Looking for a simple way to start recognizing employees?

Try our free employee appreciation certificates!

---
The rewards of an engaged workforce
Organizations with highly engaged employees outperform those with low engagement by 147% in earnings per share. Additionally, engaged business units achieve a 10% increase in customer ratings and a 20% increase in sales.
Companies that actively appreciate employees (recognition, rewards, weekly lunch outings, etc.) show 21% greater profitability than those who don't actively strive for a highly engaged workforce. Why is this? Engaged employees show interest in their work and strive to work toward a common goal. Harvard Business Review found that longer working hours had a strong correlation with higher engagement scores. This means employees working longer hours were generally more engaged, based on their self-reported engagement score. In fact, according to a 2016 Gallup meta-analysis, highly engaged business units realize a 41% reduction in absenteeism and a 17% increase in productivity.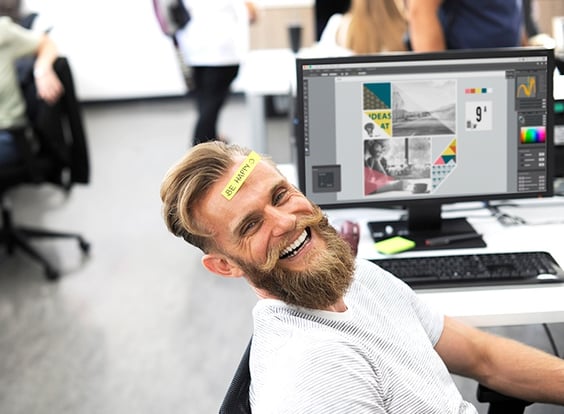 How organizations engage employees
Simply administering a survey to identify "satisfied" employees will not produce the positive effects of an engaged workforce; Employee engagement is the outcome of actively engaging employees through a strategy that drives improved performance. Treating employee engagement like a strategy will produce those positive effects.
One strategy used by organizations with highly engaged employees is the implementation of recognition programs. Understanding how, when, and by whom an employee prefers to be recognized is vital to building an effective recognition program. Some employees feel most recognized from the CEO, while some feel empowered when given the opportunity to recognize others in the organization on a peer level. Programs that allow such flexibility are likely to maintain authenticity and stamina, effectively modifying company culture and providing clear metrics for program improvement.
Gallup's research shows that employees are most likely to be engaged -- and stay with their companies -- when they report that their managers understand them and give them the chance to do what they do best every day. Managers can help employees find ways to do more of what they're good at. If you're thinking of making improvements to your employee recognition strategy, Gallup suggests keeping these things in mind to get started:
What would a highly-engaged workforce look like, feel like, be like? How would it be different to now?

What impact would this have – and how does it link to the business case?

What experience do we have of high engagement – either in our own organization, or experienced elsewhere? What is the learning from this?

What sort of organization do we want to be?

How do we want employees to talk about the organization as a place to work?

What might being an 'employer of choice' mean to us?

How do want the public, our customers and or our service users to think of us an organization – both as a strategic leader and a services provider?



Looking for ways to start recognizing employees?
Download our free guide!